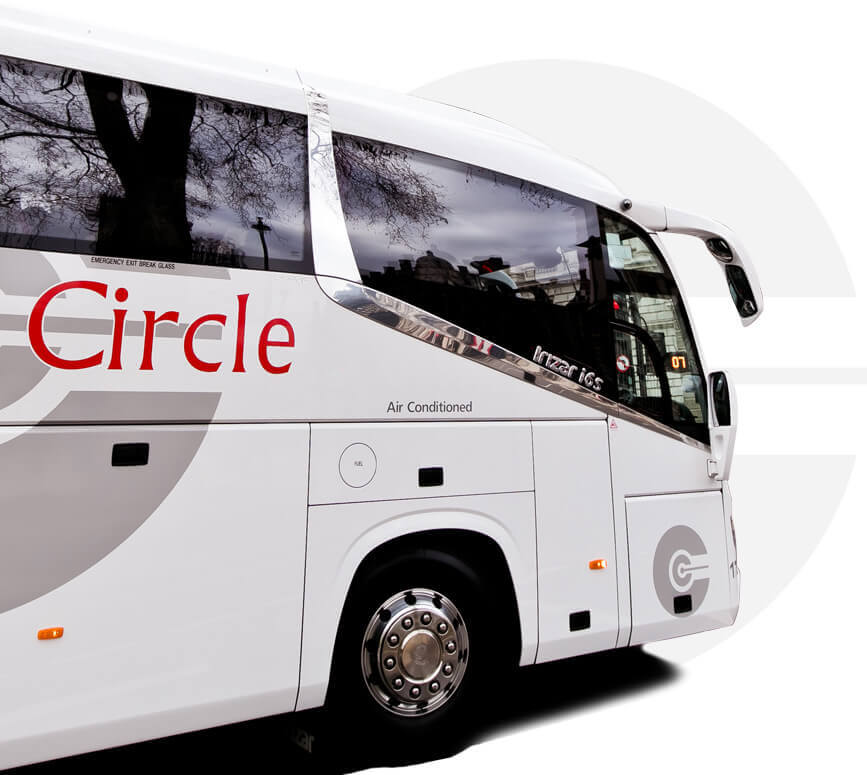 City Circle has more than two decades' experience as a corporate coach hire partner, providing tailored business transport solutions for all occasions. With established branches in London and Edinburgh, our seamless travel service is available throughout the UK and Europe.
Corporate coach hire is available to all businesses and organisations, for journeys of any length. Travel to your destination in style, be it a conference, meeting, AGM, social function or any other event that is important to your business. Our high-specification coaches ensure your safety and comfort, whilst making your journey more environmentally responsible. Experience the pinnacle of modern coach travel in a luxury private vehicle.
Bespoke corporate coach hire
Our corporate coach hire service is designed to accommodate all businesses. Our team will work with you to deliver your ideal travel experience, taking all your requirements into account. We can also provide branded vehicles that represent your business or organisation during your journeys – this specialist service has been embraced by high-profile clients such as Champions League football teams.

City Circle's commitment to our corporate clients: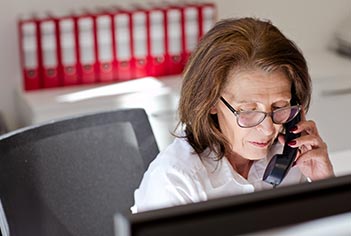 A streamlined experience
Travel on board your private corporate vehicle. Our reservations team will help you plan your journey, either travelling directly to your destination or adding in stop-offs as needed. Every aspect of the experience will be tailored to the needs of your business.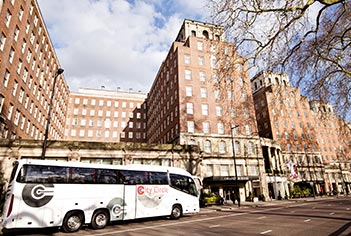 A cost-effective service
Coach travel is a cost-effective choice, offering the luxury of your own private vehicle whilst remaining highly affordable. Our team will take all your requirements into account and will tailor your journey to your business' budget to ensure the needs of your group are met.
On-board comfort
The coaches in our fleet are designed around your comfort and can accommodate corporate parties of any size. Each vehicle features a luxury interior specification that includes deluxe reclining seats, increased legroom, climate control and USB charging points. Our 36- and 53-seat coaches also feature toilets and washrooms.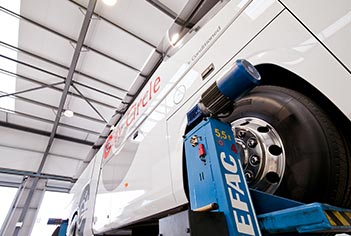 A safe journey
Your safety comes first. Our engineering team maintains our vehicles to the highest standard, conducting rigorous inspections every six weeks. We also regularly upgrade our fleet to ensure that we implement the latest safety and technological developments.
Contact the coach hire professionals
Contact City Circle to discuss corporate coach hire and start planning your journey.
Our high-specification fleet
Our high-specification coaches epitomise modern travel. We have various vehicle capacities to accommodate your corporate party, with luxurious interior specifications that ensure a superior on-board experience.
Contact City Circle
Contact City Circle and discuss your requirements with our team to shape your perfect journey.
Areas we cover for coach hire