See what some of our previous customers have said about their journeys with us.
I just wanted to say a big thank you for all of your help getting the shuttles arranged for the UCI TCL London event.
Also please pass on a big thank you to all of the drivers involved.
Everything went really well, all of the drivers were great, really friendly and a joy to work with.
Becky Pierson
Travel Places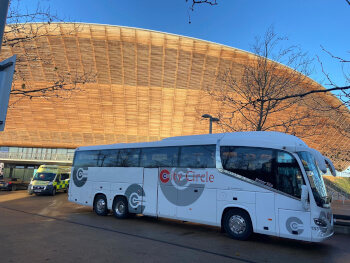 Thanks for your efficient and professional service.
I meant to email with a brilliant feedback on the service you provides and I will definitely recommend City Circle to all my network and beyond.
The drivers we had are superb and extremely caring service from Mayan to round it up from Malcolm.
Words cannot really express how much I love the entire service that City Circle proved to both my needs and beyond my expectation so far.
Please ensure to keep up the good work.
Claudia
Private Hire Customer
I want to thank you for your support all through our trip to Southend on Sea on the 7th of August.
Your driver was fantastic, professional, and very friendly.
We really had a good journey.
And hope to use your company over again.
Thank you once again.
Paul
Private Hire Customer
Just a quick mail to thank you for arranging our coaches for our Brighton trip yesterday. The client group I took out yesterday were all 60+ who are very hard to please (bless them). However, they all had a wonderful time. They as well as myself was very impressed with the drivers. They were both very patient and very professional. In all we had a fantastic time. Once again many thanks.
Alecia Sharpe
Project Administrator, UPG
Hi Korreena, I just wanted to thank you, and City Circle and especially our driver Alan. He went above and beyond with really great service. He was a great representative of your company. I will leave a positive review but I would appreciate if you could forward this email to the management. The coach was clean and in great condition- I expected a much older scruffy coach as your rates were the most reasonable. Alan was smartly dressed, friendly, professional, interesting and personable. He was particularly kind and courteous at the end of the night. Thanks very much.
Lexi, Joana and Jessica
NHS Staff
Just a little note to say a big "Thank you" to you, Pedro and Steve for your help, flexibility and patience over the past couple of days.
Melanie Evans
ESEM Europe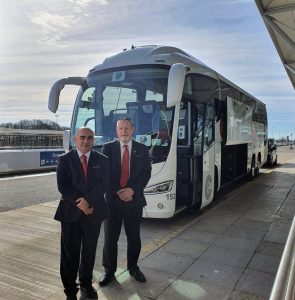 I cannot give enough praise to the 4 drivers that we were lucky enough to have on this trip [to Disneyland Paris]. We have booked with Study Experiences for the last 12 years and always requested City Circle because the standard is so high. When transporting over 200 school students we cannot take any chances. I must admit that initially I was disappointed not to find our favorite Percy as one of our drivers, but after 5 mins with Hugh we realised that he was going to be equally fantastic. Our journey out was perfect and the friendly, helpful, and professional care of all the drivers was amazing. During our stay when we needed coaches, once again all drivers could not do enough to help.
Our return journey was not too good with a number of students being unwell as a result of the virus we had picked up. At this point our drivers turned into our lifesavers in many ways. Their support was unbelievable and way beyond the call of duty. I cannot praise or thank them enough both personally and from the school and parents. I have made sure that everyone knows how amazing they were since a company as good as yours is rare. With 35 years of running school trips I feel I can say this with some authority.
Jenny Heredge
Weald School
The City Circle driver was John Godrich. He was not only an excellent driver but also a good conversationalist and the group insisted that he sit with them during meals. The coach was always immaculate and he could not do enough for the passengers.
Javier Codazzi
Supervisor Incentives Department – Axis & Globe Travel
Contact City Circle
Contact City Circle and discuss your requirements with our team to shape your perfect journey.