Luxury coach hire in Hertfordshire
Here at City Circle, our long-established reputation in collecting and transporting customers to and from locations within Hertfordshire and the rest of the UK and Europe is seamless. Our state-of-the-art fleets serve Hertfordshire, providing you with a journey of sophistication throughout charming sights that Hertfordshire has to offer. From a breath of fresh air within rural St Albans to educational trips at the University of Hertfordshire, experience the difference in travel within our 27, 36 and 53-seater premium coaches.
Our state-of-the-art Hertfordshire coach fleet
Each of our coaches in Hertfordshire are equipped with top-of-the-range safety features which are maintained to the highest standard and undergo thorough examinations every six weeks. At City Circle, we believe in comfort over capacity and echo this throughout all of our coaches with premium features. With plush reclining chairs, each accompanied with additional legroom, as well as further luggage space on-board each vehicle, we can guarantee a journey of unrivalled comfort and sophistication whilst travelling through Hertfordshire.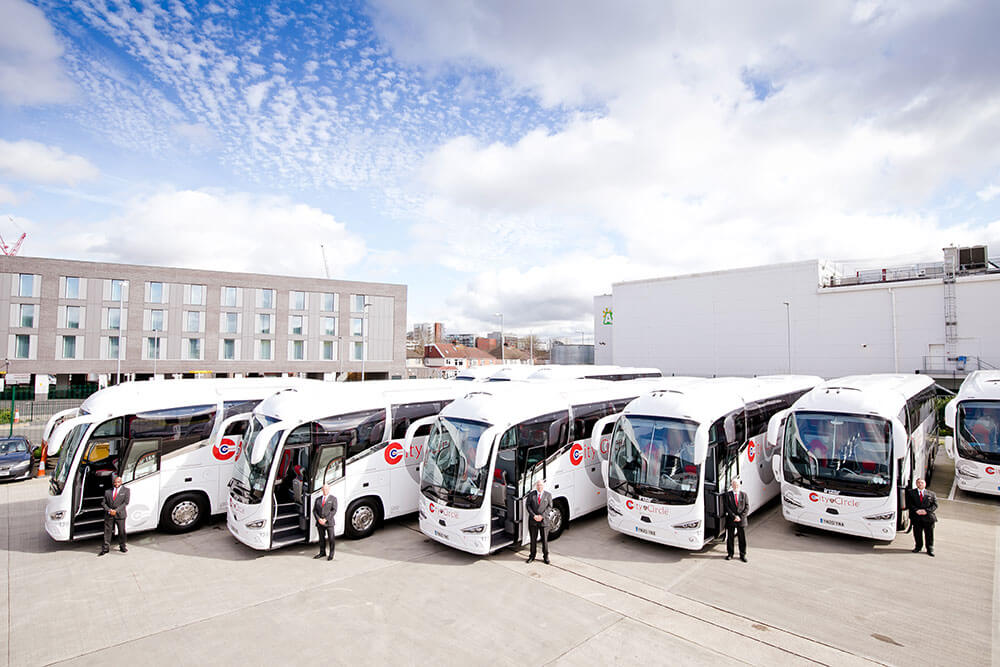 Experience the difference with professional coach hire services
To experience the difference for yourself, get in touch with our City Circle reservations team.
Experience the difference in Hertfordshire's coach travel.
Contact our City Circle reservations team by calling 0208 561 2112, emailing go@citycircleuk.com or filling out our contact form and we will get back to you.
Your choice of coach hire
Explore our fleet of coaches to hire in Hertfordshire
Why choose City Circle
for coach hire in Hertfordshire
Our environmentally friendly state-of-the-art coaches
As well as premium on-board features, our City Circle coaches play their part in protecting our environment. Our 53-seater vehicles remove the requirement for 10 cars on the road at one time, whilst our coaches of all sizes are built to conform with Euro 6 regulations, resulting in the released fumes remaining cleaner than those you would inhale on Oxford Street.
Vehicle cleanliness
All of our coaches are maintained to the highest standard and experience thorough internal and external cleans within our purpose-built cleaning facility. Each vehicle is equipped with relevant cleaning tools, allowing the driver to assess and clean the coach during all legs of the journey, ensuring that the vehicle remains in pristine condition throughout the entirety of your sophisticated travel experience.
Unparalleled UK coverage
At City Circle, our coach travel is in a class of its own. With one of the UK's largest fleets, we hold bases of state-of-the-art coaches in both London and Edinburgh. The knowledge our team withholds over the roads throughout the UK is unparalleled, allowing our drivers to provide a smooth journey of sophistication for all distances throughout the United Kingdom and Europe.
Coach hire accreditations